Pet Travel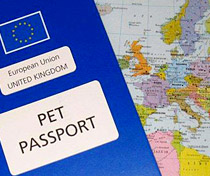 Travelling abroad with your dog or cat
It is possible to travel to EU and non-EU countries with your pet and return to the UK without entering quarantine providing that you follow the Pet Travel Scheme rules. For travel to the EU, the rules are set to change from 1st January 2021.
These rules are regularly revised and updated and they are enforced by the border controls of the countries involved. The main aim of the Pet Travel Scheme is to prevent the spread of rabies virus (and also the echinococcus tapeworm) between countries. Because the UK is a rabies-free country, the rules for pets returning to the UK are particularly strictly enforced at the UK borders.
The Pet Travel Scheme rules do not apply for travel between mainland UK and the Channel Islands or the Isle of Mann.
The Department for Environment, Food and Rural Affairs (DEFRA) oversees the scheme in the UK. Detailed advice can be found at https://www.gov.uk/taking-your-pet-abroad.The Pet Travel Scheme sets out different rules depending on whether you are taking your pet to a European Union (EU) country or not. Please visit this site and read the information carefully to find out which rules apply to your particular journey. Be aware that changes that will take effect on 1st January 2021 may not be visible on that website until they become live on 1st January 2021 (they should be searchable under a "Brexit transition" link in the meantime).
Taking your pet to Europe after 1st January 2021
The rules for taking pets to Europe will change from 1st January. The current requirements for pets to have a microchip and then a rabies vaccination at least 21 days before travel will remain. However, Pet Passports will be replaced by Animal Health Certificates (AHC). The main difference for clients is that Pet Passports used to be valid for repeated travel for as long as the pet's rabies vaccination was up to date (usually 3 years), whereas from 1st January a new AHC will have to be obtained every time you wish to take your pet to the EU. The AHC has to be completed and signed by the vet less than 10 days before you travel.
If you have a Pet Passport do not throw it away (it is evidence of your pet's rabies vaccination). If you have definite plans to travel after 1st January, please call the surgery to make an appointment that falls within 10 days of the date of intended travel.
Only vets with Official Veterinarian (OV) status can complete the AHCs. At present, these veterinary surgeons are Sheldon Middleton, Katharine Nelson, Rosie Theakston, Sarah Fallow and Kim Spoors.
If you are making an appointment for an AHC please tell the Receptionist that this is what the appointment is for. The practice will need at least 48 hours between the time of booking and the appointment slot, because the OV needs to go onto online government system and apply for the AHC on your behalf before you attend.
The cost of obtaining an AHC from Acorn House will be £100 per animal. This includes the admin time applying for the AHC prior to the appointment and the 30-minute appointment with the OV to examine the pet and complete the AHC. Payment must be made at the time of booking and is non-refundable if you later decide not to attend the appointment or collect the AHC.
Summary of new process for pets travelling from the UK to EU countries after 1st January
Insert a microchip if the pet is not already microchipped (not required if pet already microchipped).

Give a rabies vaccination (not required if you have evidence that your pet is up to date with rabies vaccination such as a valid old-style Pet Passport, or clinical records from the vet that gave the vaccine). There must be at least 21 days between the rabies vaccination and the intended date of travel.

Ring Acorn House and tell the practice the date that you plan to take your pet to an EU country. Our Receptionists will book you an appointment with one of our OVs that is within 10 days of your date of travel. Payment will be taken at this point.

The OV will apply for an AHC before you attend your appointment. For this reason at least 48 hours must lapse between you making the appointment and the appointment date itself and payment is not refundable if you later decide not to attend your appointment.

The OV will examine your pet, check your pet's microchip and ensure that your pet is up to date with rabies vaccination by examining your old-style Pet Passport or by checking our records at Acorn House if the pet was vaccinated with us. If you do not have an old-style Pet Passport and your pet was vaccinated against rabies by a different veterinary surgery it MAY be possible for our OVs to issue the EHC, this is dependent on obtaining appropriate records from the veterinary practice that administer the rabies vaccine.

The pet may travel to the EU using the usual approved routes (see APHA website for details).

If your pet is travelling to Finland, Republic of Ireland, Northern Ireland, Norway or Malta it must have treatment for tapeworm between 1 and 5 days of arrival into any of these countries. This will need to be included on the AHC. It will be simplest if the OV that is completing the AHC administers the tapeworm treatment at the same time as completing the AHC (so for these countries, the AHC should be completed between 1 and 5 days before travel, not 10 days).

On the return journey, pets will continue to require a tapeworm treatment to be administered and signed by a vet between 1 and 5 days of the date they will arrive back in the UK, just as they do now. This is carried out by a vet in the country you have travelled to. Dogs returning from Finland, Republic of Ireland, Northern Ireland, Norway or Malta will not need to have this treatment.
What about a blood test?
If the UK had been classified as an "unlisted" country after 1st January, pets travelling to the EU would have had to have a blood test 30 days after rabies vaccination and then wait a further 3 months before travelling to the EU. Some of our clients completed this process in 2020 so that they were prepared for all eventualities in 2021.
However, this week, we have been advised that the UK is likely to be classed as a "Part 2 listed" country, which would mean that the blood test and extended delay period before travel will not be required.
What will be the cost of an AHC from Acorn House?
Our fees are as follows:
Insert microchip £10
Rabies vaccination £67.47
EHC applied for and issued £100
Will I need an AHC every time I take my pet abroad?
Yes, a new AHC must be issued by an OV every time you wish to take your pet abroad. The cost will be £100 each time.
How often does the rabies vaccination need to be repeated?
The rabies vaccination used at Acorn House is usually valid for 3 years. Vaccinations given in other countries or using a different brand of vaccine may only be valid for 1 year. You can check when your pet's rabies vaccination is due by looking in your old-style Pet Passport, or asking the veterinary practice that vaccinated your pet.
Can I book an AHC appointment for the same day that I am making the booking?
No, our vets require at least 48 hours notice before you attend the practice. This is because the vet will need to request a specific AHC to be allocated to your pet, using an online government system, in advance of the appointment itself.
Why do I have to pay at the time of booking?
Our vets need to apply for your AHC in advance of your appointment (see above). We also need to reserve an extended appointment slot with one of our Official Veterinarians to issue the AHC. We cannot commit to this if we are unsure whether your appointment is going to go ahead or have concerns that you may need to change your appointment (the nominated OV may not be available on another day).
What if I already have a Pet Passport?
Do not throw your passport away as it is evidence of your pet's rabies vaccination. It will speed up the process of your vet being able to issue an AHC when you do want to travel. However, you will no longer need to take your Pet Passport with you when you travel with your pet.
Which vets at Acorn House are Official Veterinarians?
The OVs at Acorn House are Sheldon Middleton, Katharine Nelson, Rosie Theakston, Sarah Fallow, and Kim Spoors.
Which animals can travel to the EU using an AHC?
Pet dogs, cats and ferrets can use this system to travel to the EU. Other species, or groups of more than 5 pets (unless they are all over 6 months old and travelling to participate in a competition) are considered differently – please contact the Animal Plant and Health Agency (APHA) for specific advice on 0370 241 1710 or email pettravel@apha.gov.uk. The advice on the gov.uk website may not be updated until 1st January when the rules actually change.
How long is the AHC valid for?
You must travel to the EU within 10 days of the AHC being signed by the OV at Acorn House.
It is valid for a single trip only.
Once you have entered the EU, the AHC will remain valid for 4 months, or whenever your pet's rabies vaccination expires (whichever comes first). This will include onward travel through different EU countries.
The AHC is valid for return to the UK for up to 4 months after the date of issuing.
What about returning to the UK?
The requirements remain as previously – pets must receive an authorised tapeworm treatment from a veterinary surgeon before leaving. This must be given between 1 and 5 days before the pet arrives back in the UK. A few countries are exempt from this requirement (Malta, Ireland, Finland, Norway).
The documents that will be accepted for pets coming INTO the UK from 1st January are as follows:
1. A valid Pet Passport (issued in the EU, or one issued in the Great Britain prior to 1st January 2021 and still valid); or
2. THe AHC issued in Great Britain prior to travel (valid for up to 4 months after being issued); or
3. A UK pet health certificate
Your pet will not require this documentation on return to Great Britain if you are returning from Northern Ireland, the Channel Islands, The Isle of Man or the Republic or Ireland.
I am likely to want to travel to the EU with my pet but I am not sure when I will be going
Make sure that your pet is microchipped and arrange for your pet to receive a rabies vaccination at least 3 weeks before the earliest possible date that you might want to travel.
After that, there is nothing else that you can do until you know the date that you are going to travel.
Once you know this date, ring our Reception desk to book an appointment within 10 days of the travel date, with one of our Official Vets. You will be asked to pay for this appointment at the time of booking.
When will Acorn House be able to start issuing these AHCs?
Acorn House will have access to the AHCs from 23rd December, so that they can be used from 1st January when the new rules come into force. However, unlike with the previous Pet Passport system, it is not possible to apply for this documentation and then have it "ready" for travel at any time. You need to apply for an AHC every time you wish to travel and it will need to be within 10 days of the travel date each time.
I wish to take my pet abroad but to a non-EU country, what shall I do?
Contact the APHA to find out the requirements for the country that you wish to visit. They will ask you some questions and prepare appropriate documentation which our Official Vets will then be able to complete and sign for you. Make these enquiries well in advance of travel, as some countries require additional vaccinations, blood tests and waiting periods of several months before you can travel. The contact details are as follows: 0370 241 1710 or email pettravel@apha.gov.uk.
This document was written on 15th December in response to early indications of the new pet travel arrangements planned from 1st January 2021. Please be aware that EU/UK negotiations are ongoing and Acorn House Veterinary Hospital cannot accept responsibility for any changes which may occur as negotiations progress.
Contact Information
If you have any queries consult DEFRA for the most up to date information at: www.defra.gov.uk/take-pet-abroad/overview
PETS helpline: 0370 2411710 (Mon-Fri 8am-6pm)
Email: pettravel@apha.gsi.gov.uk
---
Travelling abroad with your dog: precautions against disease
If you are taking your dog abroad there is a risk of him/her picking up diseases which are not normally seen in the United Kingdom. The risks from a short holiday are low but there are some precautions that you should take before and during your holiday to protect your dog. Rember that the PETS travel scheme is designed to prevent dogs form bringing rabies and tapeworms back to the UK. It is not designed to protect individual dogs whilst they are abroad.
Please read the following information regarding the common exotic disease present in Europe
If you are travelling to areas affected by these diseases your veterinary surgeon will be happy to help you select the appropriate preventative treatments prior to your trip.
Leishmaniasis: Common around the Mediterranean including Spain, Portugal, Southern France, Italy and Greece. This disease causes skin problems, weight loss, lameness and kidney failure. Many of the scruffy looking dogs you see on holiday, especially those with hair loss around the eyes, will have leishmaniasis. Symptoms can often be improved with treatment, but the disease is difficult to cure completely. The disease may not develop for several years after the initial infection.
Leishmaniasis is spread by sandflies. Sandflies are mostly found in wooded areas and gardens, and are particularly active at night during the summer months. Prevention is by reducing the risk of bites by sandflies: do not allow your dog to sleep outdoors at night and use a preventative treatment to repel sandflies.
There is a choice of repellent products which may be purchased in the UK before you travel. One is a collar (scalibor) which contains deltamerithrin and lasts for 6 months. The other is a spot-on treatment (Advantix) which lasts for 2 weeks. Plug-in insect repellents are also useful to keep the inside of the buildings insect-free for animals and people!
There is also a vaccination available for dogs travelling abroad which reduces the risk of them contracting Leishmaniasis (dogs that have been vaccinated are 4 times less likely to develop the disease). This vaccination may be given to dogs from 6 months of age. The initial vaccination course consists of three injections each given three weeks after the preceding injection. The onset of immunity is 4 weeks after completing the initial course, so the vaccination course should be started at least 10 weeks before you wish to travel. Afterwards, a single booster should be given every year to maintain immunity.
Heartworm: Common in Australia, America, Spain, Southern France, and Italy. However, with global warming this disease is starting to occur further north, with occasional cases reported as far north as Brittany. The heartworms live in the heart and large blood vessels, causing heart failure and breathing difficulties. Symptoms are not usually seen for 6-12 months after infection.
Heartworm is spread by mosquitoes. Treatment is based around preventing mosquito bites, and also medication to prevent worms from developing if your dog is infected. Prevention of mosquito bites can be achieved by using the Scalibor collar or Advantix spot-on, as for preventing bites by sandflies.
The drugs which prevent heartworms developing are given monthly, starting before you leave the UK and continuing for a short period after your return. The choice is between a spot-on product (Stronghold) and a tablet (Milbemax). Because heartworm is common in the at-risk areas and is serious and difficult to treat once the worms are in the heart, we recommend that all animals travelling to risk areas are given one of these preventative drugs.
Babesiosis: This disease is particularly common in France but also occurs in most other European countries. Babesiosis is a parasite of the red blood cells which causes severe anaemia. This disease can have a dramatic onset with fatal consequences 2-3 weeks after exposure to the ticks which spread Babesiosis. It is essential to get an immediate diagnosis and treatment, so if your dog suddenly becomes ill whilst abroad or soon after returning, seek veterinary attention immediately.
Babesiosis is spread by ticks. In most cases the Babesia parasite is not transmitted to the dog until the tick has been feeding for 24-48 hours. Treatment is based on avoiding ticks, preventing them from biting the dog, and removing them within 24 hours if they do bite the dog.
We recommend: Avoid rough ground and forests, especially where other animals graze. Advantix spot-on or a Scalibor collar should be used. These products repel ticks and make them much less likely to attach to your dog. If ticks do attach they are killed by Advantix or Bravecto (but not by Scalibor). Frontline spot-on kills ticks after they attach to the dog but does not repel them and takes up to 48 hours to kill them, which may still allow transmission of disease, therefore we do not recommend the use of Frontline for this purpose. Do a thorough groom of your dog every day and check carefully for ticks. Use a tick hook to remove any ticks found as soon as possible (tick hooks are very easy to use and can be purchased at reception).
Ehrlichiosis: This disease is seen in all Mediterranean countries. It often causes disease in dogs at the same time as Babesiosis because it is also transmitted by ticks. Ehrlichiosis is a parasite which infects white blood cells. Initially it causes a fever. Following this, some dogs recover completely. Other dogs remain infected and develop problems with their immune system and blood clotting system. Prevention is by preventing tick bites as for Babesiosis.
---
Travelling abroad with your cat: protection against disease
Cats are also at risk from contracting the above diseases. Unfortunately, the options for safely protecting cats are more limited. There is no safe tick or sandfly repellant treatment for cats and o vaccination against Leishmaniasis.
Protecting your cat will involve:
Returning cats to the house before dusk (when sandflies become more active).
Avoiding access to areas with a high prevalence of ticks (rough ground, forests, grazing areas).
Applying Broadline monthly for protection against heartworms as well as roundworms and tapeworms.
Broadline will also kill ticks once they have attached so that they drop off more quickly (within 48 hours).
Check your cat daily for ticks and remove any using a tick removing hook.
---
Before you travel:
Check that your PETS passport is correct and up to date.
If you are flying, check that your transport is booked and that you are aware of any specific regulations, for example, crate sizes.
Complete the Leishmaniasis vaccination course if travelling to an at-risk area. (Dogs only)
Start treatment with Stronghold or Milbemax (dogs or cats) or Broadline (cats only) for Heartworm (if travelling to an at-risk area). Broadline will have some activity against ticks so is the preferred option for cats.
Start treatment with Scalibor or Advantix to prevent ticks, sandflies and mosquitoes. (Dogs only).
Whilst on holiday, check daily for ticks and remove any found with a tick hook. If using Advantix, re-apply every 2 weeks (every 3 weeks is sufficient for ticks and every 4 weeks is sufficient for fleas, but protection against sandflies and mosquitos requires fortnightly application). Alternatively, the Scalibor collar should repel ticks, and a tablet known as Bravecto can be given every 3 months to quickly kill any ticks that do still manage to attach.
If using a Scalibor collar, this will last for six months before requiring replacement.
If in a heartworm area, repeat Stronghold or Milbemax (dogs and cats) or Broadline (cats only) every month.
For dogs only: arrange for tapeworm treatment to be given not less than 24 hours and not more than 150 hours before you check in for your return journey to the UK. This treatment must be given by a veterinary surgeon and the appropriate section of the PETS passport must be signed by the vet. The timing is very strictly enforced!
Latest News
Read the latest information, offers and advice by reading our practice newsletter.
You can make an appointment, order repeat prescriptions or register online.