Physiotherapy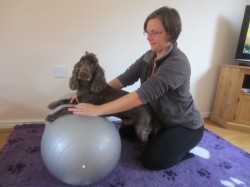 Nadia graduated from Hartpury College and became a category A member of ACPAT in June 2015. Nadia studied for her BSc hons in Physiotherapy at Oxford Brookes University and qualified in 2006. Nadia has worked in the NHS specialising in dementia care and worked in this area for 4 years before deciding to further her studies in the animal sector. Having also spent time completing research in canine kinematics Nadia has extended her knowledge further whilst practising her veterinary physiotherapy skills. As well as assessment and treatment using hands on skills learnt in her human training initially and now adapted for use on animals, Nadia now provides laser therapy, assistive equipment for your pets rehab journey and also bespoke splinting. Coming from a hospital background, working as a team with all the staff at Acorn House is really important to Nadia as she has seen how much effective treatment can be when it is a holistic approach is taken by all professionals, the animal and the owner to reach a common goal.
Nadia has owned and competed her own horses and dogs since the age of 8 years old. This means Nadia has personal experience in competing her animals and therefore understands that whether they are pets or an athlete, they still mean the world to their owners. Nadia has experienced first-hand the importance of correct rehabilitation after an injury of an animal and therefore understands how it feels for an owner as well as seeing how good practice can be very effective.
What can Physio do for your pet?
Veterinary Physiotherapy is an essential adjunct to the normal veterinary care of an animal. Nadia is trained to assess and treat a wide variety of musculo-skeletal problems. Physiotherapy can be used for any animal to help maintain a good quality of life and avoid injury, for working, competition or racing animals to help them reach their full physical potential or to help rehabilitate an animal following a trauma or surgical procedure.
Benefits include reducing pain, swelling and muscle spasm. It helps to encourage healing and improve range of movement, prevents secondary complications and enhances/maintains function. Physiotherapists can also give advice on adapting your animal's environment to ensure this is appropriate.
Many animals are stoic and therefore pain or discomfort can only be identified as changes in behaviour or normal habits.
Physiotherapy can help your dog reach its full athletic potential, maintain a good quality of life or rehabilitate from an injury or surgery. Manual therapies and electrotherapy can be used on dogs much as they are used on humans and these can be complimented by exercise regimes that can be taught to the owner or handler to help maintain and support recovery and maintain a good quality of life. Physio is not just for after injury or rehabilitation, working/competition dogs are subjected to far more stresses and strains than the average pet dog. In order to perform to their optimum ability they require sport specific conditioning and advanced skills in core stability, natural balance, body awareness, concentration and confidence.
Animals such as cats, cows, sheep, goats, donkeys, and rabbits can also benefit from physiotherapy input. Usually used after surgery or injury but can also be used to maintain a good quality of life for older animals. Treatments are adapted for use for smaller animals. Exercise programmes tend to be made to fit into the animals day to day activities rather than a specific exercise regime as it is harder to keep their focus.
Common problems that are treated are:
Older animals with joint stiffness and weakness
Hip dysplasia
Elbow dysplasia
Osteochondrosis dissecans
Patella luxation
Angular limb deformities
Avascular disease of the femoral head
Fractures
Fibrocartilaginous embolism (spinal stroke)
Acute & chronic soft tissue injuries, involving muscle, tendon, ligament or joint capsule.
Severe soft tissue and bony damage following a road traffic accident, possibly resulting in amputation of a limb
Joint luxation
Nerve injuries
Spinal disc disease
Cranial cruciate ligament disease
Arthritis
Spondylitis
Weight control issues
CDRM (Degenerative Myopathy) Muscle, ligament and soft tissue strains/sprains
Injury prevention and performance enhancement
What is ACPAT?
ACPAT is the Association of Chartered Physiotherapists in Animal Therapy. A growing number of Chartered Physiotherapists now work with animals. Unlike the title 'Veterinary Surgeon' the title 'Animal or Veterinary Physiotherapist' is not protected. This means that anyone can call themselves an animal or veterinary physiotherapist regardless of their qualifications. The title 'Chartered Physiotherapist' is protected by law and can only be used by physiotherapists who have achieved a high level of academic and practical training in all aspects of physiotherapy and are consequently qualified and registered to practice. ACPAT physiotherapists are used by the British Equestrian team and also used and endorsed by Noel Fitzpatrick ("Supervet").
Latest News
Read the latest information, offers and advice by reading our practice newsletter.
You can make an appointment, order repeat prescriptions or register online.