Work Experience
What We Offer
We are owned by the Royal Veterinary College (RVC) and are a training practice for student nurses. Our vice principal Rosie holds the Postgraduate Certificate in Veterinary Education and most of our nurses are trained assessors. Work experience with Acorn House will provide you to an insight on how a first opinion veterinary hospital functions. This can help you decide on your career options while providing you with good experience on your curriculum vitae. We offer 1 week placement per student and are normally booked 6 months in advance.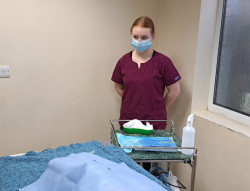 Working Week
The normal working hours are 10am-5pm on Monday and 9am-5pm Tuesday to Friday.
Lunch breaks are 1 hour long and can be taken in the on-call flat or the staff garden. The time of the lunch break depends on the morning's workload. It is advisable to bring a packed lunch, we do have cooking facilities available. Tea, coffee and cordials are provided during the working day.
On the first morning of your placement please report to reception. A nurse will welcome you to the practice and go through your induction, which will include health and safety awareness before they give you a tour. You will have a place to keep your belongings but there is no lock. Personal items are left at your own risk and the managers do not accept the responsibility for property stolen or damaged.
Dress and Behaviour Code
A protective coat will be provided for the duration of your placement. We do require you to wear smart but casual clothing. This should consist of a plain T-Shirt or shirt and black trousers (tracksuit bottoms and jeans are not acceptable). Please wear comfortable shoes, remember you will be on your feet all day! High heels or trainers are not acceptable.
Jewellery is not permitted as it is considered a health and safety risk. Long hair should be tied back.
The vets and nurses are regulated under the Veterinary Surgeons Act 1966 which lays out their professional behaviour. Therefore, you are also expected to behave in a courteous and professional manner and always show respect to all staff and members of the public.
Confidentiality is law binding to the practice under the UK GDPR and Data Protection Act 2018. All details relating to the clients and their pets are strictly confidential and must not be discussed outside the practice.
Mobile phones are not permitted while working, they are to be kept with your personal belongings in the on-call flat.
Whilst being present during consultations, please do not interrupt the clinician or client during this time. If you feel uncomfortable you may leave the consult room quietly by the staff door. You may also be asked to leave during a consultation if it is of a sensitive nature.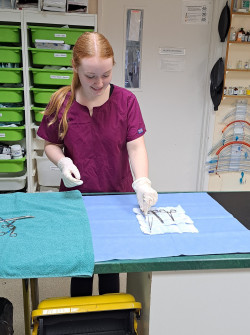 Expectations
The nursing and surgeon roles are widely varied. Our aim is to give you an insight into a typical working week. The tasks you will be expected to perform may range form sweeping floors, cleaning surgical equipment to observing major surgical procedures.
We do not ask you to do anything which we don't do. All of our staff will perform their tasks to the best of their ability, regardless of how small they are, this also applied to you during your time with us.
If you are struggling with any of your tasks or are asked to do or observe something you do not feel comfortable with, please let a member of staff know and we will do what we can to ensure you only see/do things that you are happy with.
Application
The following link will take you to the application page, once submitted you will receive a response within 14 working days.
Work Experience Application Form
Latest News
Read the latest information, offers and advice by reading our practice newsletter.
You can make an appointment, order repeat prescriptions or register online.